Первый Корейский сад в России
Ключевые слова:
корейский сад, университет, Иркутск, Каннын, растения, ландшафтный дизайн
Аннотация
Описана история разработки и создания первого в России «Корейского сада» на базе университетского Иркутского ботанического сада в суровых климатических условиях Байкальской Сибири. Особенности выбора растений и ландшафтной специфики представляют этот сад как уникальный этноботанический объект - культурное и природное наследие Кореи, экологический и гуманитарный ресурс для науки, образования и мероприятий международного сотрудничества.
Библиографические ссылки
Ahn G.B. 2002. Comparison of characteristics of traditional gardens among Korea, China and Japan. Landscape Design, p. 16-27. In Landscape Architecture. Dami Publishing Company, Seoul. 250 p.
Golosova E.V. 2011. Problems of the formation and design of East Asian and West European gardens and parks under the influence of the horticultural traditions of China. Dissertation Thesis.... Doctor of Agricultural Sciences / Moscow State Univ. of Forestry. Moscow - 47 p.
Grigoriev L., Pavlyushin V., Kulaev N. 2019. Republic of Korea: successes and development problems. Bulletin on Current Trends in the World Economy. April 2019,
No. 43. - 20 p. <https://clck.ru/X2s8R>
Heo K. 2005. Gardens of Korea: Harmony with Intellect and Nature, London - 159 p.
Investor's Directory of the Irkutsk Oblast. 2008. "Special edition for the Baikal Economic Forum" Irkutsk: Publishing house "Time of wanderings", 2008. - 86 p. <https://clck.ru/X2rek>
Hong K. P. 2013. Korea's Gardens: The Beauty of Natural Harmony. Korea, November 2013. - P. 6-13. <https://clck.ru/X2rxe>
Jackson P. W. 2014. The Global Strategy for Plant Conservation – an opportunity and responsibility for Korean botanic gardens and arboreta (in Korean only). Journal of the Korean Association of Botanical Gardens and Arboreta (KABGA), January 2014, Vol. 41. - P. 28-35. <https://clck.ru/X2sFQ>
Kim Y. S. 2006. Conservation of plant diversity in Korea. Landscape and Ecological Engineering Vol.2. - P 163-170. https://clck.ru/X2sBx
Kim Y.-S. 2018. Introduction to Chollipo Arboretum Foundation, Republic of Korea. Hortus Botanicus, Vol. 13. - P. 23-36. <https://clck.ru/X2sN5>
Kuzevanov V., Matsushima H., Yamada T., Sizykh S., Ponomarev A. 2015. First Japanese Garden in the Heart of Asia. Project Baikal, Vol.46. - P. 110-115. <https://clck.ru/X2rsb>
Kuzevanov, 2007. Development of the Irkutsk Botanic Garden as a recreational and tourist object of international level (information booklet). Irkutsk: ISU.- 4 p. <https://clck.ru/X2rSk>
Kuzevanov V., Ponomarev A. 2015. Creation of a Korean garden in the city of Irkutsk (Proposed Korean Garden Creation in «The Heart of Asia»). Irkutsk : Published with the support of the Russian Geographical Society. - 10 p. <https://clck.ru/X2rm9>
Matthews J. 2012. Traditional Korean Gardens. Landscape Outlook. - P. 12-16. <https://clck.ru/X2s63>
. Ponomarev A., Kuzevanov V., Suk S.I. 2016. The Korean Garden Project for Irkutsk, Siberia. A Multifunctional EthnoBotanical Resource for Conservation and International Cooperation. In: Sharing Experience in Management and Education in Botanic Gardens and Arboreta. Proceedings of the International Symposium of East Asia Botanic Garden Network, Seoul, Republic of Korea, July 6th-9th, 2016. Seoul: Publisher "Korea National Arboretum and Korea Association of Botanic Gardens
and Arboreta". - P. 131-140. <https://clck.ru/X2rnv>
Shin H T., S. J. Kim and J. W. Sung. 2020. Key words analysis of arboretum and botanical garden using big data. Journal of Forest Recreation, 24(2). - P.1-10.
Sizykh S.V., Kuzevanov V.Ya., Peskov V.P., Belozerskaya S.I. 2006. Horticultural therapy: using the resources of the botanic garden for social adaptation and rehabilitation. Irkutsk: Publishing House of Irkutsk State University. - 47 p. <https://clck.ru/X2rpN>
Vasiliev G.E. 2018. On the study of the peculiarities of the layout of the gardens of Korea. Bulletin of landscape architecture. No. 13. P. 9-13. <https://clck.ru/X2sY5>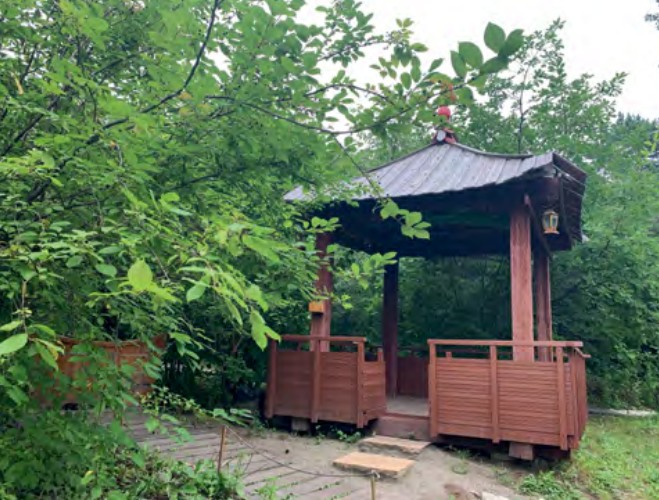 Загрузки
Как цитировать
Kuzevanov, V., Ponomarev, A., Kalyuzhny, S., & Kim, Y.-S. . (2021). Первый Корейский сад в России. проект байкал, 18(69), 102-112. https://doi.org/10.51461/projectbaikal.69.1860
Раздел
refereed articles - рецензируемые статьи
Лицензия
Это произведение доступно по лицензии Creative Commons «Attribution» («Атрибуция») 4.0 Всемирная.
Creative Commons Attribution 4.0 Unported